GK WORLD CHAMPIONSHIP CALLS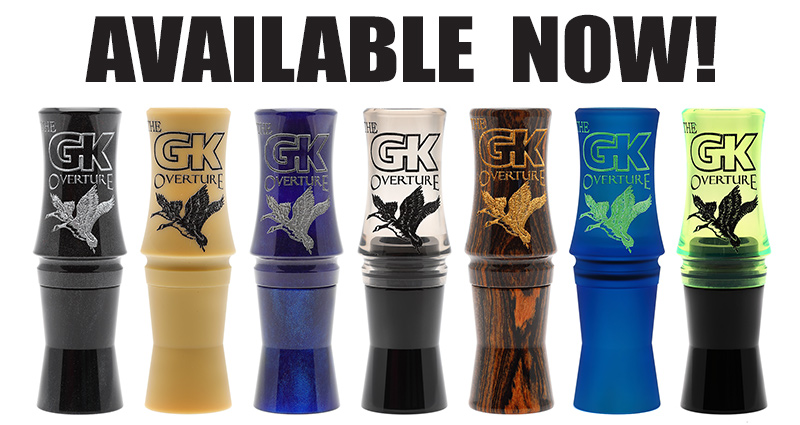 GK World Championship Calls was founded in 1999, by Todd Svoboda, who designed the original Giant Killer. He pursued his vision to develop a short reed goose call that would deliver the tonal quality and realism of the Canada goose. The call became an instant success amongst professional guides and competition callers, and is still in production today.  In 2003, the company was restructured and purchased by Bob Alfieri. Since then, GK has developed twelve different models of both duck and goose calls in an effort to cater to all of our customer's needs.
GK World Championship Calls staffs some of the most accomplished callers in the world. We are very proud of their achievements on the calling circuit. Since 2003, we have been successful in winning every major title on the goose calling circuit. GK netted a record of over 200 first place finishes, two world titles, and the "Champion of Champion's" title in 2010.  We also have some very promising youth callers, all of which we expect to become very proficient on the calling circuit within the next few years.
Proud to be a 100% Michigan based company, GK has built a reputation for delivering customer service that is second-to-none. With our Lifetime-No Hassle Warranty (Warranty does not cover misuse, physical damage caused by the user, or wood naturally splitting) on all of our products, we are here to fulfill the needs of our customers. Our customer service has been the backbone of our company from its initial roots, and will continue to be the cornerstone of our company throughout the reign of our second generation president, Glenn Alfieri.
GK is proud to be a sponsor of numerous hunting organizations all over North America that make it a priority to get the young men and women involved in the great sport of waterfowling. We strive to educate the youth on the importance of conservation, safety, and respect for the sport.
Remember:  Make Time To Take a Kid Hunting.